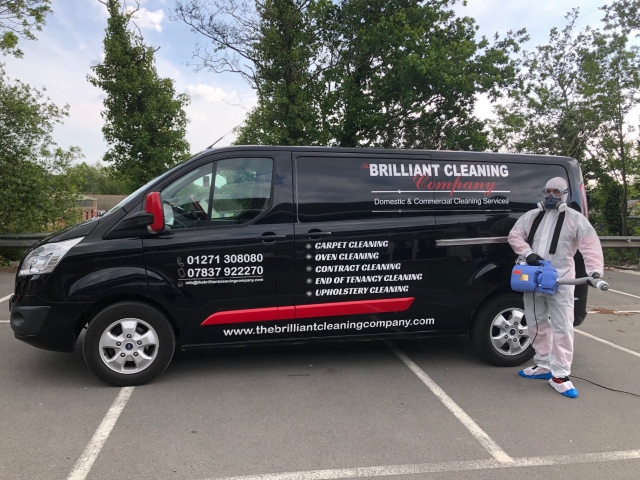 ANTI-BACTERIAL FOGGING
The Brilliant Cleaning Company have been operating in North Devon for over 10 years and is helping fight the ongoing battle against Coronavirus with a Fogging and prevention deep clean and sanitising service.

We were recently called in to sanitise an area at a residential home that had confirmed cases of Covid 19.

The solution we use is completely non-toxic non irritant and non-corrosive, this means it is harmless to humans and animals. Our treatment works by irreversibly binding, penetrating and immobilising bacteria, viruses and fungi so they cannot replicate, leaving surfaces disinfected and safe to use.

Fogging is the quickest and easiest way to sanitise large and small areas with minimum disruption to your business or home. The solution eradicates bacteria, viruses and fungi both airborne and surface based and starts to work immediately.
Once complete the space is free from any pathogens.

Our method of sanitisation eliminates 99.9999% of bacteria, viruses and spores (kills all but 0.00001%) . It can also prevent the re-infestation for up to 30 days on surfaces.
Through our sanitisation process there is no need to move furniture or equipment around for the treatment to work. The process takes minutes rather than days and the area is ready to re-enter within an hour.
Our treatments are available for:-
Clinics - physiotherapists, osteopaths, chiropractors, massage therapists etc.
Cafes
Children's nurseries
Cinemas
Dentists
Doctor surgeries
Factories
Food prep areas
Gymnasiums
Holiday home management companies
Holiday parks
Hospitals
Hotels
Nursing/ Residential homes
Restaurants
Schools
Surgeries
Veterinary surgeries
And many more.